Recently Palladio Development met with city officials to discuss it's plans to expand it's development within the city borders. Palm Bay is one of the fastest growing cities in Florida and with it has become a hub for recent development.
Palm Bay, the second-largest city in central Florida, is open for business. With a desirable climate, access to highways, abundant water resources and a picturesque natural setting conveniently located between Orlando and Miami, Palm Bay is a city positioned for growth.
~
The city of Palm Bay has a population of 109,000 and growing, covers an area of one hundred square miles and is home to well-known employers and educational institutions, many of which are in technology and the demanding aerospace industry.
The city has many long-term employers such as respected American communications, information technology and defense contractor Harris Corporation. Others, including The Boeing Company, DRS Technologies Inc., the Florida Institute of Technology, Lockheed Martin, Rockwell Collins and the United Space Alliance, also have a solid presence in Palm Bay.
Although it is the largest city in Brevard County and the eighteenth most populous in all of Florida, Palm Bay is only thirty percent built-out and has plenty of room for future development and growth.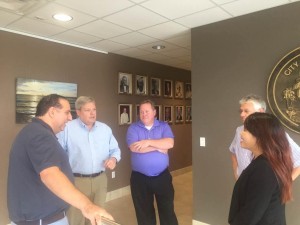 Local and state government fostering a business-friendly community on Florida's east coast have led to the city of Palm Bay being recently ranked as America's fifteenth fastest-growing city by Forbes magazine.
A number of factors were carefully considered by Forbes when looking at the city of Palm Bay, according to Mayor William Capote. "They look at home sales at the time, and we were the most desirable place to move to," he says. "Another consideration was sustainability in regard to water. Parks and recreation was credited. It was a whole lot to get us there; it wasn't one thing." Earlier, in 2005, Palm Bay was ranked throughout the United States, also through Forbes, in the top ten most desirable places to relocate.
The city of Palm Bay is close to major highways and airports, including Melbourne and Orlando International Airports and Port Canaveral and is ideally situated between Jacksonville and Miami.
The city is a well-known hub for aerospace and attracts numerous high-tech businesses, says City Manager Gregg Lynk. "We are fortunate Brevard County has the aerospace industry here, and has not only the Kennedy Space Center up the road, but we have a lot of defense contractors. Our biggest one being Harris Corporation and Northrop Grumman."
There has been considerable recent growth, including expansion by Harris, a realignment from Northrop and the expansion of Brazilian aerospace company Embraer S.A. into Brevard County. The city is also attracting smaller engineering companies supporting the aerospace and aviation industry.
Palm Bay was initially called Tillman when it was settled in 1887. Locals later decided that the name did not accurately reflect the beauty and natural grandeur, renaming it Palm Bay in 1925.
Long before it was incorporated on January 16, 1960, Palm Bay was an attractive destination for businesses and residents alike. Since the 1960s, strategic growth has seen new highways, schools, hospitals, banks, motels, libraries and more. In 1990, Palm Bay became Brevard County's most populous city, with 62,632 residents, and in 2011, the new city hall annex was unveiled.
Another key advantage for businesses relocating to Palm Bay is its government. Palm Bay is a full-service city, providing police, fire, public works, parks, recreation facilities, growth management and utility services to its citizens.
New and existing businesses and residents can quickly access a wealth of online information about services and about visiting, living, playing and doing business in Palm Bay. The city's site includes information on economic development, business resources, real estate and much more.
Businesses can take advantage of tax abatement programs and other incentives, such as the Qualified Target Industry Tax Refund (QTI) program, which is available for companies creating high-wage jobs in targeted, value-added industries. Enterprise Florida, Inc. (EFI) is a public-private partnership that is also working on economic development in the state.
EFI serves to bridge Florida's business and government leaders and has a mission of expanding and diversifying the state's economy to increase job creation and promote tax credits for capital investments.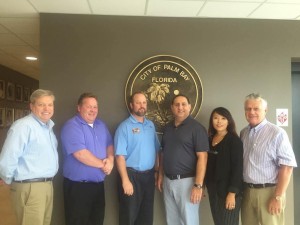 "Also, we have streamlined and are continuing to streamline the permitting process in the city of Palm Bay," says Lynk. "We want to be the most business-friendly city in the state of Florida, so when it comes time for a company to relocate, we can get them up and running as quickly as possible. And, beyond that, we live in a very pretty place. We live in paradise down here, so there is an incentive. I always say if I can get the wife of a CEO to Palm Bay, I can make sure that company relocates."
Recently, the city was able to attract several firms to Palm Bay, including publically-traded Oakridge Global Energy Solutions, Inc. (OGES). Oakridge is a 'made in USA' company utilizing state-of-the-art technologies to develop and manufacture highly advanced, high-quality cells, lithium ion batteries and power systems. It completed its move to a new corporate headquarters at 3520 Dixie Highway in Palm Bay, Florida where it has added over 68,700 square feet of space for corporate offices and manufacturing.
Oakridge has a core business focusing on the markets of stationary and grid storage; mobile applications such as batteries for fleet vehicles and electric and hybrid vehicles; as well as for backup applications for the military, marine, aerospace, telecom, scientific and industrial sectors. For the past thirty years, Palm Bay has been home to numerous aerospace, defense and high-tech firms, such as Harris.
"The main reason they relocated here is the defense contracting sector, and that's going to be 1,000 jobs by 2018 to the city of Palm Bay," says Economic Development Administrator Andy Anderson. "The lithium battery sector is a very lucrative field." Palm Bay has been home to numerous aerospace, defense and high-tech firms, such as defense contractor Harris Corporation.
Mayor Capote says Palm Bay is attracting an interesting mix, including millennials – people born from the early 1980s to early 2000s – and baby boomers – individuals born between 1946 and 1964.
"We are trying to be the city full of millennials and boomers," explains Mayor Capote. "The boomers are retiring, and they're going to come to Florida in droves. They might go to Texas, they might go to Pennsylvania, but Florida's always been the key thing for everyone."
Palm Bay is strategically positioning itself to welcome a new generation like San Francisco, San Antonio and Dallas are doing.
"Right now, we are ranked second in the state behind St. Petersburg for the most desirable place for millennials to move to," says Mayor Capote. "Orlando, being a major city, was ranked thirty-third. So the sheer numbers favor us to continue to attract that market."
The area is home to many educational institutions, including Eastern Florida State College, and the city is working with the internationally-ranked Florida Institute of Technology – a private doctoral/research university based in Melbourne, Florida – to bolster research and development in the technology corridor. Recently, a large company donated one of its buildings to Florida Institute of Technology to transform it into an incubator and research center to be opened in the near future.
It is these and other amenities that Mayor Capote and his team believe will help attract millennials to Palm Bay to work and to live.
Palm Bay is expanding, attracting new businesses and residents alike, and the Florida Department of Transportation is creating a new exit in nearby Brevard County – essentially south Palm Bay – where tremendous development is in the works. One area will see over a million square feet of commercial space and about 4,000 homes while another development is slated for 600,000 square feet of commercial space and 2,900 homes.
"The interesting thing is, Palm Bay is the eighteenth largest city in Florida," says Lynk. "We are the sixth-largest city via land mass, and we are only thirty to thirty-five percent built up. We have tremendous room to grow and tremendous resources for water, and those two factors contribute to a very conducive place to develop. There is a lot of work going on in the next five years."
Its Kirby Industrial Area offers plenty of industrial land and many opportunities for tax increment revenue generation, but the city of Palm Bay is also working with developers in a private-public partnership to create something unique: spec buildings. Much like model homes in subdivisions, industrial buildings will be constructed on speculation to give potential tenants a much better sense of the space and location. "That is becoming the new thing for business parks of the future," says Lynk. "They can either buy a spec building, or one that is similar, and that will be part of these developments."
With its updated marina and waterfront, the city of Palm Bay offers wonderful amenities for tourists and locals alike. Anglers can fish for bass in crystal-clear lakes, snook and redfish in brackish waters or wahoo out on the ocean. Of course, Florida is known for its beaches and the city partners with Orlando to promote beaches to tourists. Hiking, biking, kayaking, looking for alligators and many more activities are readily available.
Although the city's great team at city hall promote it via a variety of means, including social media, the Internet, and Google Analytics, a considerable amount is achieved through direct contact and word-of-mouth. Well-known events, such as the Tough Mudder extreme obstacle course competition or the Food Truck Wars food festival draw thousands of people.
One of the biggest attractions is water, and the city of Palm Bay has a lot of it. "Water is a serious determination, a commodity, when someone develops," says Lynk. "Instead of relying on service water, which is always the big war, we did deep wells and reverse osmosis. We are allowed ten million gallons a day, and we only use two million. So, in Florida, it's a big deal. In other jurisdictions, they fight over water. This is one of the innovations that Forbes looked at. It is deep wells with reverse osmosis that supplies us with water. Between land and water, we are land-rich and water-rich. A lot of jurisdictions in Florida would kill for that."
source: http://www.businessinfocusmagazine.com/2015/11/a-city-on-the-cutting-edge/